PROTON TECHNOLOGY – 15 YEARS OF PROFESSIONAL CORROSION TESTING, Part 3 – What next?

Author: Stefan Gustafsson Ledell, CEO Proton Technology
Time flies when you're having fun and Proton Technology recently turned 15 years. This article is the third out of three articles that describe Proton Technology's journey from the start until today, as well as what the future might hold. Don't forget also to read the first and second article.
Proton Technology is one of Europe's leading corrosion and surface analysis laboratories and test centers, working towards global OEMs and their subcontractors all over the world. In the previous articles, we described how it all started and the journey until today. This article will try to look into the future – what will the next step be for Proton Technology?
Some of our new investments made in 2023, for constant and cyclic corrosion testing. The laboratory now has a total test area of more than 25m2 within the cabinets.            
In the last article, we described that we built a new laboratory in 2016, 100% climate controlled. Since then, we continued to invest in new chambers and new test methods and have now more than 25m2 test area in our chambers.
Since 2011 we have been a preferred laboratory for Scania and Volvo. In 2018 we took on a new strategy to take another step towards being a Global laboratory. We started to partner up with new OEMs:s like Ford and Daimler. This led to an increased Lab-Scope with more test standards. In 2023 we had over 250 test standards in our Lab-Scope, and we can make tests for most the automotive companies like Scania, Volvo, Daimler, Ford, Tesla, VW, MAN, Jaguar, Land-Rover, and Volvo Cars.
We have always focused on cyclic corrosion tests, like ACT, ACTII and nVDA, which from the beginning were the requirements from Scania and Volvo. Our new internationalization strategy in 2018 encouraged us to invest more in other OEM requirements, mainly in the European automotive market. For example, to be able to perform tests like VW PV1209 and VW PV1210.
In 2020 we also got a flexible accreditation, to be able to flex in methods that our customer needs to have accredited. This is a very important step because many of our customers are certified by IATF 16949, which means that they need to use an accredited method. This makes us even more flexible in our service.
In 2021 we introduced our partner- and network model. The purpose is to be more active in specific markets. We now have partners in both Italy and Germany.
So, what brings the future? We think the demand for cyclic corrosion tests is going to increase. The importance of choices that correlate with the real environment going to be more and more important. The trend, electrification of the automotive industry, is also going to influence us as a laboratory. Different materials and requirements mean different test methods. Electrical engines consist of a great amount of aluminium, for example, battery packs. The weight of the vehicle will be more essential which also leads towards more aluminium in other structural parts. This development will also head more component testing, which means we need to have larger chambers and more capacity.
We also think that quality control will be more important in the future, due to sustainability awareness. We have noticed an increased interest in cyclic corrosion tests for the maritime sector, safety sector and other industrial applications.
Proton Technology is prepared no matter where the future takes us.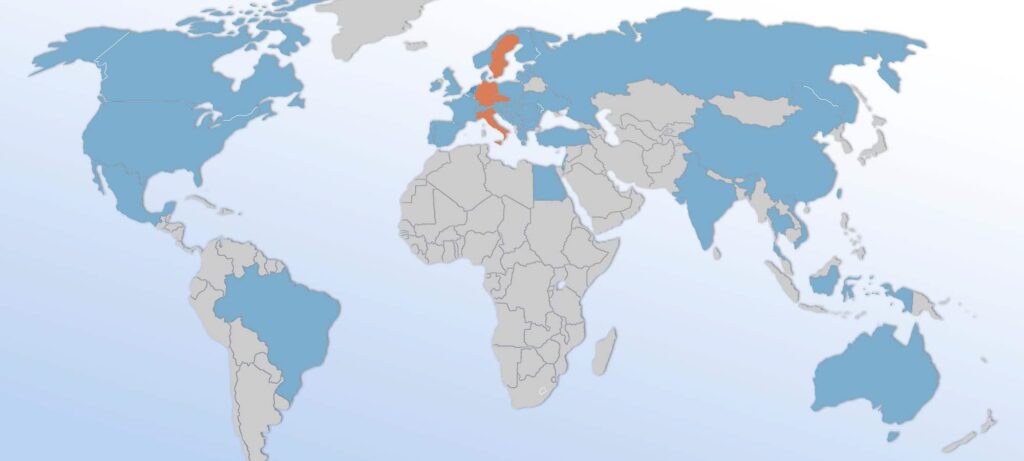 Proton Technology has customers all over the world.
Three short questions to Stefan Gustafsson Ledell, CEO of Proton Technology.
Why do your customers choose Proton Technology?
"We let our customers rank all our performed tests from 1-10, where 10 is the best possible service. In the last four years, we have had an average grade of 9,5. We are of course very proud of this. Our customers say that we have a very good service mindset. We have the shortest lead times on the market. We are always available by phone and e-mail. We have competence in test standards and requirements and can help our customers to design the best test for their needs".
What has been the strategy for Proton Technology so far?
"Besides the service described above, our strategy and vision are to be a Global partner, when it comes to corrosion- and service analysis. Therefore, during the last years, we have developed partnerships with Global OEMs:s, other laboratories, and service companies. We have also optimized our internal processes, shipping routines etc. Today, more than 60% of our tests originate from outside Sweden, and we have customers all over the world".
What will be the next step in Proton Technology's development?
"We will continue our strategy to be a Global partner and the leading corrosion laboratory. We are continuously increasing our Lab-scope which leads to new investments in our laboratory. We want to be as flexible as possible and at the same time, our goal is to have a lot of capacity to offer our customers with short lead times. We have just seen the beginning of the electrification era and what many new and increased demands it already brought us. It is highly likely the parameters of the tests have to be adapted to what is the new common. Test cycles with acidified salty rain, fluctuating humidity and greater range in temperature are likely to increase in numbers".
This was the end of this series of articles, from the beginning and what we believe the future will hold. We will continue to assist our customers in the best possible way.
Looking forward to hearing from you!