CORROSION TESTS AND SURFACE ANALYSIS

Do you need to perform corrosion tests and surface analysis to certify your products?
Would you verify the durability of a coating?
Salt spray corrosion tests and surface analysis



MaterialScan gives access to a comprehensive service of salt spray corrosion testing and surface analysis, thanks to the partnership with Proton Technology, an ISO/IEC 17025 accredited laboratory capable of performing a wide range of tests in accordance with international standards and specifications of several manufacturers like IKEA, Volvo cars, Ford, Scania, Volvo Truck, VW, MAN, Jaguar, Land-Rover, Daimler and their subcontractors.
The Lab-Scope is continuously increasing where we try to adapt to your needs and to maintain the highest level of service. Download the complete Lab-Scope.
Report delivery in 24h
With express delivery, testing starts upon sample arrival and results are delivered within 24 hours after test completion.
1200 m² climate-controlled laboratory
Several test cabinets for small and large components are placed in only one controlled environment.
More than 200 test methods
Qualified assistance to customers for test selection according to the main international standards and manufacturer specifications.

MaterialScan provides qualified technical and commercial support throughout Italy, assisting the customer from the first contact to the delivery of results.
For more information call us:
Corrosion tests on coatings and surface analysis

Thanks to several test cabinets for small and large components, we can satisfy customer requests with more than 200 corrosion test methods and integrity evaluation of coatings, including:
Salt spray corrosion test (ISO 9227, ASTM B117, DIN 50021, EN 60068-2-11)

Cyclic and accelerated corrosion test (ISO 11997 e ISO 16701)

Determination of resistance to the humidity of coatings, paints and varnishes (ISO 6270-1 e ISO 6270-2)

Assessment of quality, adhesion, and integrity of coatings, paints and varnishes (ISO 12944, ISO 16276, ISO 20567, ISO 2409, ISO 4624)

Surface analysis using electron microscopy (SEM and EDS).
Corrosion test duration and report delivery

Proton Technology is a leading independent laboratory in the field of corrosion tests and surface analysis based in Bankeryd, Sweden.
With express delivery, testing starts within 24 hours upon sample arrival and the test report is delivered within 24 hours after completion.
Is the distance to Bankeryd a problem?
Absolutely no!
Proton Technology receives samples from all over the world. Shipping times are typically 1 to 3 days.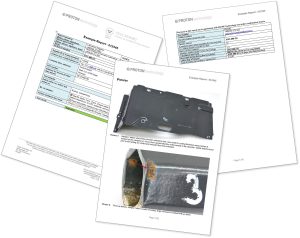 Anti-corrosion coatings: applications
Corrosion is the continuous and gradual consumption of a metallic material due to exposure to aggressive environments (oxygen, aerated water, aqueous solutions, seawater, acids and bases). This phenomenon induces the physical properties of the material to deteriorate.
Corrosion tests are required in various industrial sectors (automotive, construction, furniture, shipbuilding, metalworking, etc.) to evaluate the durability of a component operating in outdoor environments, corrosion mechanisms, quality control and, not least, the development of new materials and coatings.